Tides & Weather
Marine Forecast
Today's Tides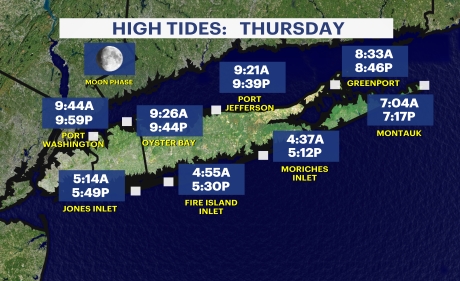 5 Day Forecast
Thursday 08/17 0%

Clear

Sunshine and a few clouds. High 78F. Winds SSE at 5 to 10 mph.

Friday 08/18 50%

Chance of a Thunderstorm

Cloudy early. Scattered thunderstorms developing later in the day. High 77F. Winds S at 10 to 20 mph. Chance of rain 50%.

Saturday 08/19 20%

Partly Cloudy

Cloudy skies early, then partly cloudy in the afternoon. A stray shower or thunderstorm is possible. High around 85F. Winds SW at 5 to 10 mph.

Sunday 08/20 10%

Clear

Sunny skies. High 86F. Winds WNW at 5 to 10 mph.

Monday 08/21 0%

Clear

Mainly sunny. High 84F. Winds W at 5 to 10 mph.