Tides & Weather
Marine Forecast
Today's Tides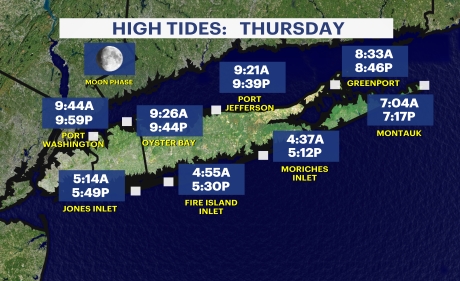 5 Day Forecast
Issued:

10:51 PM EDT on March 20, 2018

Expires:

6:00 AM EDT on March 22, 2018
Issued:

5:52 PM EDT on March 20, 2018

Expires:

6:00 PM EDT on March 21, 2018
Wednesday 03/21 100%

Snow

Rain and snow in the morning, becoming snow in the afternoon. Windy. Temps nearly steady in the mid 30s. Winds NNE at 20 to 30 mph. Chance of precip 100%. 3 to 5 inches of snow expected. Winds could occasionally gust over 40 mph.

Thursday 03/22 60%

Snow Showers

Windy with snow showers before noon. Winds diminishing later. High 44F. Winds NNW at 20 to 30 mph. Chance of snow 60%.

Friday 03/23 20%

Overcast

Overcast. High around 45F. Winds NNW at 10 to 15 mph.

Saturday 03/24 0%

Clear

Except for a few afternoon clouds, mainly sunny. High 46F. Winds NNW at 5 to 10 mph.

Sunday 03/25 20%

Mostly Cloudy

Mainly cloudy. High 42F. Winds NE at 15 to 25 mph.