Tides & Weather
Marine Forecast
Today's Tides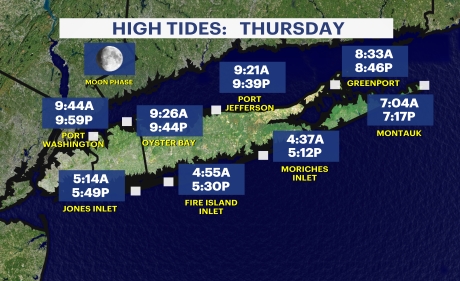 5 Day Forecast
Issued:

3:18 PM EST on February 23, 2019

Expires:

6:00 PM EST on February 25, 2019
Saturday 02/23 100%

Rain

Cloudy with rain. Lows overnight in the mid 30s.

Sunday 02/24 100%

Rain

Rain likely. High 48F. Winds S at 10 to 20 mph. Chance of rain 100%. Rainfall around a half an inch.

Monday 02/25 0%

Partly Cloudy

Partly cloudy skies with gusty winds. High 39F. Winds WNW at 25 to 35 mph. Winds could occasionally gust over 50 mph.

Tuesday 02/26 0%

Clear

Mainly sunny. High 36F. Winds WNW at 10 to 20 mph.

Wednesday 02/27 0%

Mostly Cloudy

A mix of clouds and sun early, then becoming cloudy later in the day. High 31F. Winds NW at 5 to 10 mph.